A somewhat disappointing May for big billfish around the world – the totals equaled the April number of large billfish caught, which is a bit of a surprise given that May usually produces its fair share of big fish.
Unsurprisingly Hawaii tops the charts with seven 500+ blues in the month of May – typically this is one of the top months for the large girls. Madeira's bite got an early start, the Canaries are starting a bit slowly, and South Florida saw a good number of large broadbills this month.
But no doubt the highlight for May was the grander caught in the Ivory Coast (see granderwatch.com for more information).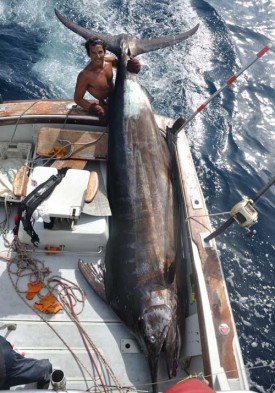 Here are May's big billfish:
Ivory Coast – 1098 blue
Kona – 850 blue, 725 blue (Maui), 719 blue, 650 blue, 609 blue, 602 blue, 500 blue
Madeira – 850 blue,770 blue
Canaries – 800 blue, 500 blue
Florida – 693 sword, 640 blue, 485 sword, 334 sword
US East Coast – 600 blue, 530 blue
Cape Verde – 500 blue
…
And the odds for the world's next grander…
Madeira – 2/1
Kona – 5/1
Bermuda – 5/1
GBR- 10/1
Cape Verde – 20/1
US East Coast – 30/1
All other – 4/1