Very rare is the circumstance where the angler can target both black and blue marlin in the same fishery – Panama, a bit in Australia, occasionally in Cabo, Costa Rica at times, and a few other select places are about it.
But in terms of comparing the two – which fish sits atop the billfish world – there are any number of dimensions you can look at…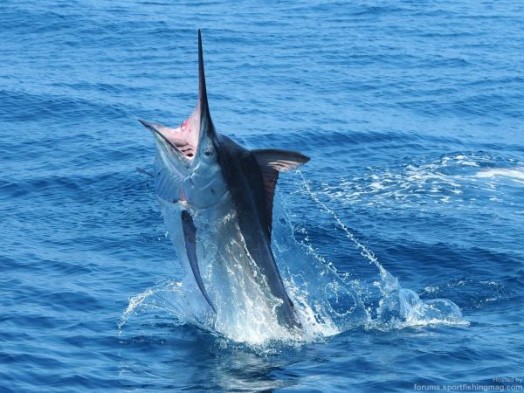 – Size.  The obvious one – and though the world record for black marlin (1560) is larger than the blue world record (1402), larger blue marlin have been caught.  The largest marlin ever caught on rod and reel is an 1805, caught in Honolulu in 1970.  Most captains agree that the largest blues run larger than the largest blacks – but blacks are likely larger to reach grander status.  But world records are world records.  EDGE: BLACK MARLIN.
– Speed.  Studies have demonstrated that the black and blue marlin have similar top speed – but the fish use their speed in very different ways.  Blue marlin have initial runs that can be devastating and fast – and tend to sound more than blacks as well.  In fact, some blues will dive at great pace some 500 yards below the surface, and stay there.  Blacks, on the other hand, will manifest their speed in sheer power – a strong run, but then heavy drag'll be required to subdue the fish.  But at the end of the day, use of speed is very different from pure speed, on which these fish have similar measurement.  EDGE: EVEN.
– Ease to target.  An interesting aspect – as the black marlin tend to spend time on structure, on shelves, and relatively closer to larger pieces of land.  Blue marlin, on the other hand, are highly migratory – they'll be found all over the oceans, and often times are best located in remote islands that they happen upon in search of food…to wit, Madeira, Hawaii, Vanuatu, Ascension Island, to name a few.  But both are targetable in fairly reliable places – blacks in Panama, Australia, western Mexico, and blues in any number of places.  The sheer number of places where blues appear, however, makes them prevail here.  EDGE: BLUE MARLIN
– Fight.  Radically different fighting fish, comparing the blue and black marlin is like comparing a sportscar with an 18-wheeler.  Both possess enormous power, but both use it in very different ways.  The key difference in fight is twofold: the initial run, and the fight after the run.  Blues can make initial runs that can be in any direction, but with incredible agility and fight in that first instance…and then can remain stubbornly deep, apathetic to the fight on the surface.  Bringing a blue marlin up from deep can be a daunting task for the most experienced angler.  The black marlin, on the other hand, doesn't go as deep, but can be equally stubborn – and will require very heavy drag for longer periods of time than the blue.  Typically the black won't undergo the ballistic runs and jumps that a blue might as well.  All to say that catching a blue marlin – whilst a massive challenge unto itself – still isn't nearly the issue a black marlin poses on heavy tackle.  EDGE: BLACK MARLIN.
– Effort to fish.  Blue marlin are most typically targeted with lures – no matter where you're fishing in the world.  Some fisheries use live baits or other tactics, but lures predominate.  On the other hand, fishing for blacks tends to involve catching and bridling live baits – though pulling dead baits can also be effective in some locations.  Blacks aren't averse to lures either, but targeting blacks with lures is simply much less common.  In sum, lure fishing is certainly lower effort, and somewhat lower difficulty, than livebaiting.  EDGE: BLUE MARLIN
Subjective, for sure.  Your thoughts on comparing the species?