Flamingo, Costa Rica – You have no doubt heard us talk about Capt. Jason Coffin on the Mr. Trigger. Hell, we may talk too much about him, but let me tell you, there is a reason. Capt. Jason has re-discovered a black marlin fishery that most people thought had gone away. While everyone else trolls around for blues, Capt. Jason is pitching baits to black marlin. Yes, you read that correctly, he is bait and switching on black marlin almost exclusively. When we think Black Marlin, Panama and Australia come to mind, but Jason is making us think differently about or beloved Costa Rica.
While we could go on about his targeting of black marlin, Jason proved again that there is simply some World Class fishing going on in Flamingo.
While fishing Four Days Capt. Jason put up some numbers that would make any captain proud and the rest of the fleet envious. He caught 6 Black Marlin, 2 Blue Marlin and 25 Sailfish. To top it off, his second day he got a Billfish Grand Slam with a Black, Blue and a Sail. Best part is, he lost a striped marlin or he would have had a Super Grand Slam. These are just catch numbers, forget about the numbers of marlin that came up behind his boat as you would not believe me if i told you.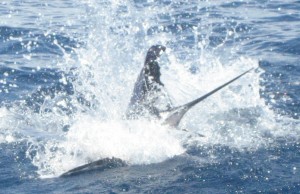 Here is how he caught them:
2 Black Marlin – Pitch Baits
2 Black Marlin – Bonita with Skirt
2 Black Marlin – Ballyhoo
2 Blue Marlin – Pitch Bait
25 Sailfish – Ballyhoo
If you want your shot, go over to our "Who to Fish With" and click on Flamingo, Costa Rica. Capt. Jason would be happy to show you this incredible fishery.