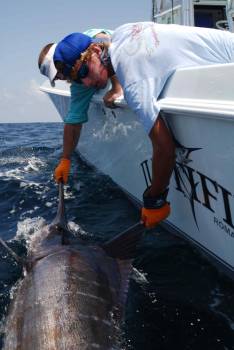 Freeport, Texas – For a state with as much coastline as Texas, you would think we would hear more from the Lone Star state when it comes to Billfish. We have all heard about the Oil Rig fishing, maybe the Poco Bueno Tournament or the TIFT, but other than that, Texans don't seem to talk about about their fishery.
We reported a few days ago about a new boat (at least to us) named the Justified that fishes out of that "other" Freeport…Texas. The report probably got lost to most of you, even though they went 3-3 on Swords. What we didn't know at the time, was this was not your normal 20+ Year experienced old salt having a good day on the water. Rather, it was two young men, that clearly have a unique passion for fishing, Billfishing that is.
You all know that "Marlin Billfish" and "Bill Fish" are probably on that Facebook thing a little too much. But, once again, that Facebook internet thing has paid off. Brothers Grant and Mark Lutz, age 22 and 16 may live in a land-locked city, but they make their way down to the Texas coast every chance they get in the summer. So, now you are catching on. Two young brothers go fishing together and catch some swordfish. Good story, right? Keep reading…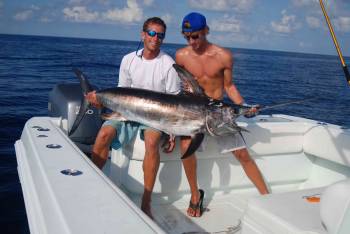 If you have ever fished off of Texas, you know it is a run to deep water. Typical runs to  bluewater can be 100+ miles. (Before you start questioning safety, the boys always travel with a Sat Phone, 2 Epirbs, Raft etc). So, these guys like to fish so much, they travel every weekend they can 250+ miles by car and then another 100+ miles offshore. As if that is not exhaustive enough, they decide that day-time deep dropping for swordfish on conventional tackle,  in 1,000′ of water sounds like fun. Tired Yet?
Their chariot is a nice 33′ Contender, that probably gets them out there pretty fast. Don't worry about two boys being reckless 100+ miles out though, because Mom likes to tag along. How cool is that! So, in their free-time, the Lutz Family likes to run offshore in search of Billfish for some Mother-Son bonding. This story does not get sad here though, Papa Lutz likes to fish as well, but apparently not as much as Mom (sorry Dad!).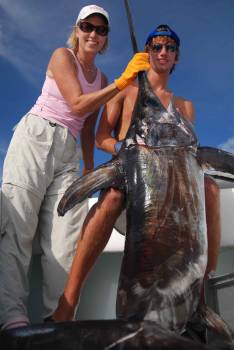 So, now you are wondering about the Florida Keys connection. While we mentioned the Lutz family being newbies to the sport, the man that got them started is an old pro. Capt. Randy Towe out of Islamorada on the Quit Yer Bitchin' has been in this fishing game for 30-Years (www.quityerbitchin.com). After only a couple charters fishing with Capt. Randy, they boys apparently learned enough to have a go at it themselves. According to his website, Capt. Randy enjoys sharing his knowledge more than anything else. I guess he must be a helluva good teacher.
The Lutz Brothers + Mom, like to search out the other billfish species as well. They have been successful trolling for  blue marlin and sailfish. I would say that is some pretty good summertime fishing. Hold on……Did I mention this is their FIRST SUMMER FISHING?
These guys (and gal) liked fishing so much, they started fishing off Texas after only a few charters and while fishing without professional help, managed Daytime Swordfish, Blue Marlin and Sailfish. Capt. Randy, I think you may have started something!