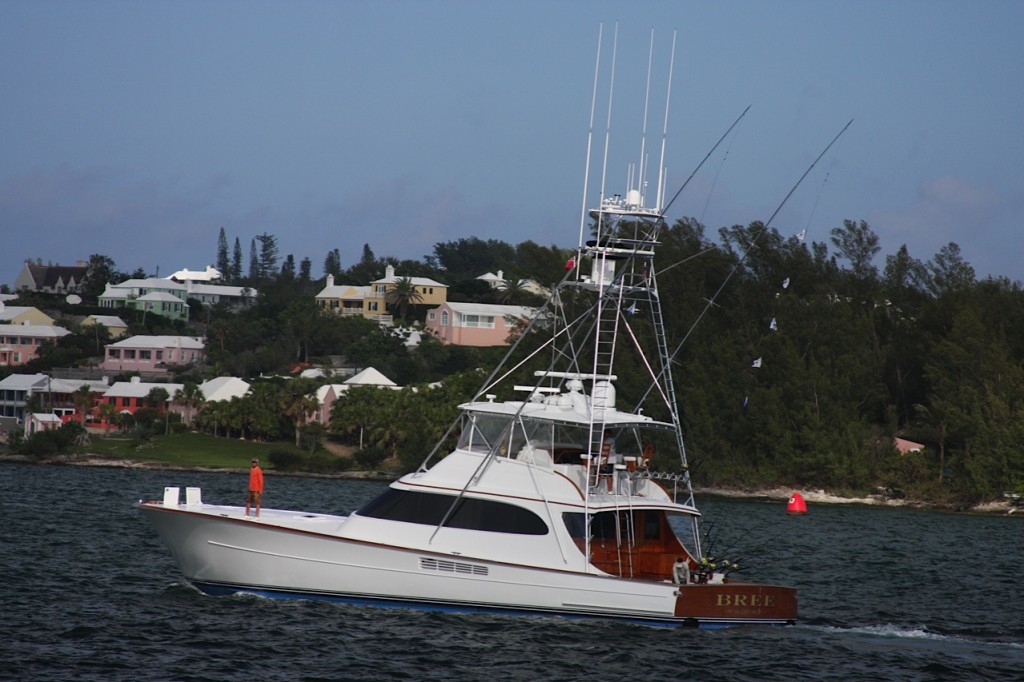 Bermuda – The Blue Marlin World and the Triple Crown had all ended, just in time for an epic big blue marlin bite. The boys were no longer fishing for money, but for "fishery pride". It has been an abnormally slow season for Bermuda, which is known to produce some of the biggest blue marlin in the Atlantic. There were plenty of reports in the 500+ Club, not nothing like what we saw early last week. We received reports of 10 blue marlin over 500 lbs, with 2 over the 900 lbs mark. See below
Bermuda – Challenger – 700 lbs.
Bermuda – Bree – 900 lbs.
Bermuda – Bree – 750 lbs.
Bermuda – Playmate – 800 lbs.
Bermuda – Sea Toy – 500 lbs.
Bermuda – Mattanza – 700 lbs.
Bermuda – Mattanza – 600 lbs.
Bermuda – Wound Up – 500 lbs.
Bermuda – Wound Up – 500 lbs.
Bermuda – Reel Estate – 929 lbs.
While this bite was impressive, it was Bree who stole the show last week, with two particular days standing out. Capt. Kyle Liane was having an admittedly slow season by their standards and could not get the bite to heat up. This all changed though, when he went 8-11 on Blue Marlin, with two double headers including a 750 & 900 lbs fish.
Here is how Capt. Kyle tells it.
As in the years past we have stuck around after the fishing tournaments in hopes of good fishing with less pressure. Over the last two days we released eight blue marlins and one white marlin.

Day 1 : We started the day releasing a 300 pound blue after ten minutes of fishing. Then the lunch time bite came with a double header, a male and female. The owner Randy Ringhaver made short work of the male and release him @ 300 pounds. Then crew member Justin Liane went to battle for 45 minutes and released the 2nd fish an estimated 750 pounds. 30 minutes after lines back out, teaser bite with a picture perfect pitch and released the fourth blue @ 400 pound. Finally as the lines are going out randy gets a bite while putting in the rigger, ending up with a white marlin

Day 2: Same as the first day, we released four blues with one being a estimated 900 pounds. The highlight of this day was that everyone on the boat got to catch one. After the second blue, the boss said he was going to drive some i could catch one and sure enough he put me on one. Then once again we had a double header. This time it was two females. The battle was unbelievable, two blues jumping at the same time. We know the one was a very nice fish just by the displacement of water. After things cooled down i asked crew member Brent Huffman to put the fly gaffs together because the fish looked to be close to a 1000 pounds.  Randy was on the big fish in the chair and crew member Justin got the stand-up 80 wide on a very angry 400 pounder. We released the 400 pounder and took a very long look at the second fish and made the choose to release her and estimated her weight a 900 pounds.

What a way to end a "slow season" for Capt. Kyle and Crew.