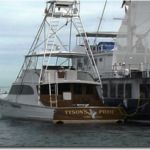 Springdale, AR – It is with great sadness that we report that IGFA Trustee and Billfish Foundation Founder Don Tyson died today in his home in Springdale, Arkansas. Known around the world Tyson Foods and his great Philanthropic endeavors, we in the Billfish Community knew him more for his passion for marlin. He was the proud owner of Tyson's Pride and Horizon. He was an intrepid explorer, taking his boat wherever the marlin were in the world.
Those who had the opportunity to meet him, know that Don was always willing to talk about our great sport and about the need for Billfish Conservation.
His leadership will be greatly missed!
Don died after a short battle of cancer at the age of 80.