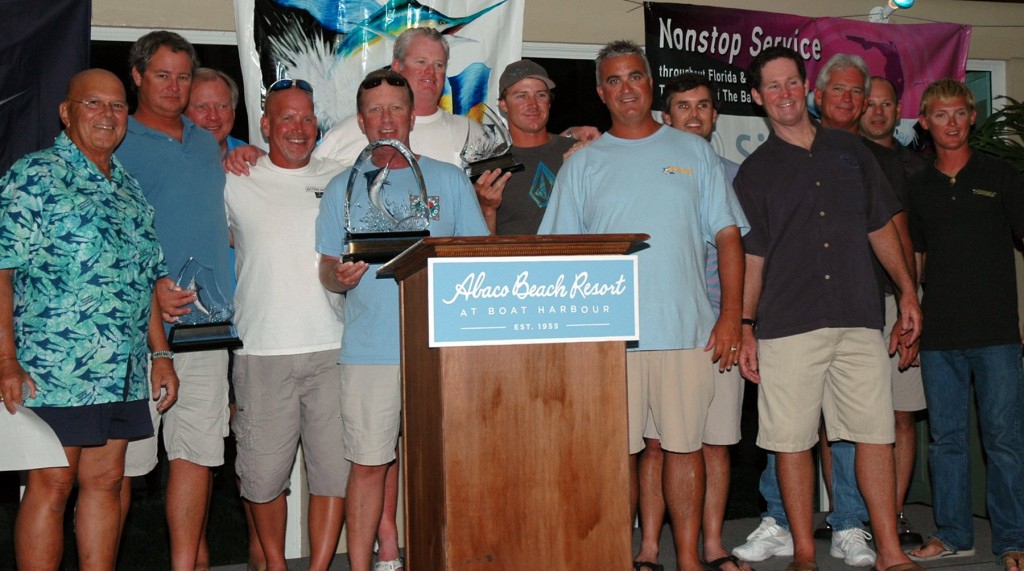 Marsh Harbour, Bahamas – David Anderson's team Krazy Salt's wasted no time showing the twenty-seven teams fishing the Marsh Harbour Championship that they were out for victory. On the first day of the tournament, team Krazy Salt's caught and released three blue marlin and a sailfish for an impressive 1,900 points. By contrast, day two was nonproductive for the Palm Beach, Florida based Viking 70. With the forecast for westerly winds, the Team opted to use day three as their 'lay day.' The Bahamas Billfish Championship's fishing format allows teams to fish three out of four days with a required 'captain's choice' lay-day. The lay day decision was apparently the right call as Krazy Salt's added another blue marlin and a white marlin on the final day to finish the third leg of the 2012 BBC series with 2,700 points.
Krazy Salt's was not the only team busy catching blue marlin. Fishing only their second ever BBC tournament, team Island Time released a blue marlin on day one and two blues on day four to edge out the winner of the Harbour Island Championship, Fa-La-Me, on time. In fact, on day four, Fa-La-Me hooked-up with their forth blue marlin of the tournament just before the call for 'lines out.' Whether Fa-La-Me finished second or third depended upon catching this fish. Frank Rodriguez's team continued to battle the big blue for three and a half hours before losing the fish at 6:39 PM.
The Marsh Harbour Championship was sponsored by Bertram and Silver Airways and executives from each company were competitive anglers during the tournament. Alton Herndon, President of Bertram and Matt Holliday, Vice President of Marketing & Sales for Silver Airways presented the handsome Randy Rich trophy for First Place to team Krazy Salt's. The winner of each tournament also receives a $500 Gift Certificate from Treasure Coast Propellers and a box of custom BBC and TBF teasers from Reel Tease. 'Top Captain' and 'Top Crew' trophies, sponsored by the Lewis Marine Group, were awarded to Capt. Keith Greenberg and the crew of Krazy Salt's.
The Second Place team, Island Time and Third Place team, Fa-La-Me each received Randy Rich designed trophies and the top three finishers at each leg of the BBC receive gift certificates from Maui Jim Sunglasses,
Roffer's Ocean Fishing Forecasting Service (ROFFS) and bottles of Bacardi Anejo compliments of Bacardi International and Bahamas based Bristol Wine & Spirits.
During the tournament, a total of 35 billfish were caught and released; 22 blue marlin, 9 white marlin and 4 sailfish. At all BBC tournaments, catches and releases are validated using time and date stamped digital images. Affidavits signed by all participants fishing on each team further confirms that the fish was released in accordance with IGFA and Bahamas Billfish Championship rules.
The BBC's annual Hors d'oeuvres Contest took place during the Marsh Harbour Championship hosted by the Abaco Beach Resort & Boat Harbour Marina. The nine competing teams submitted recipes using products provided by TABASCO® and Jane's Krazy Mixed-up Seasonings®. The top three entries, selected by a team of judges from Bertram and Silver Airways, each received a cash prize, a bottle of Bacardi Anejo and a serving platter from the McIlhenny Co., manufacturers of TABASCO products. Team Bob Along finished third with an eggplant based entry called, "Mother-In-law's Tongue." Second place went to Blackhawk's "Stoned Tenderloin," a blend of bite-sized pieces of beef tenderloin and stone crab with a tangy dipping sauce. Finishing in first place was Bluewater Cat's "Seafood Ceviche." Shrimp, lobster and conch were used to create this ceviche that was served in a hand-carved pineapple shaped like a blue marlin.
The third place finish at the Marsh Harbour Championship enabled Fa-La-Me to improve its lead in the overall standings for the 2012 Bahamas Billfish Championship to 6,700 points. Miss Annie remains in Second Place overall with 5,400 points. Moving into Third Place in the overall standings is team Wave Paver with 4,100 points. For the overall standings of this year's BBC teams and online scoring during tournaments, visit www.bahamasbillfish.com.
Anglers can fish any or all of the tournaments with cumulative points determining the overall Bahamas Billfish Champion. In an effort to give-back to the Bahamian people, the Bahamas Billfish Championship has two endowed scholarships that enable Bahamian students the opportunity to pursue a degree in marine biology or advanced education in marine technologies.