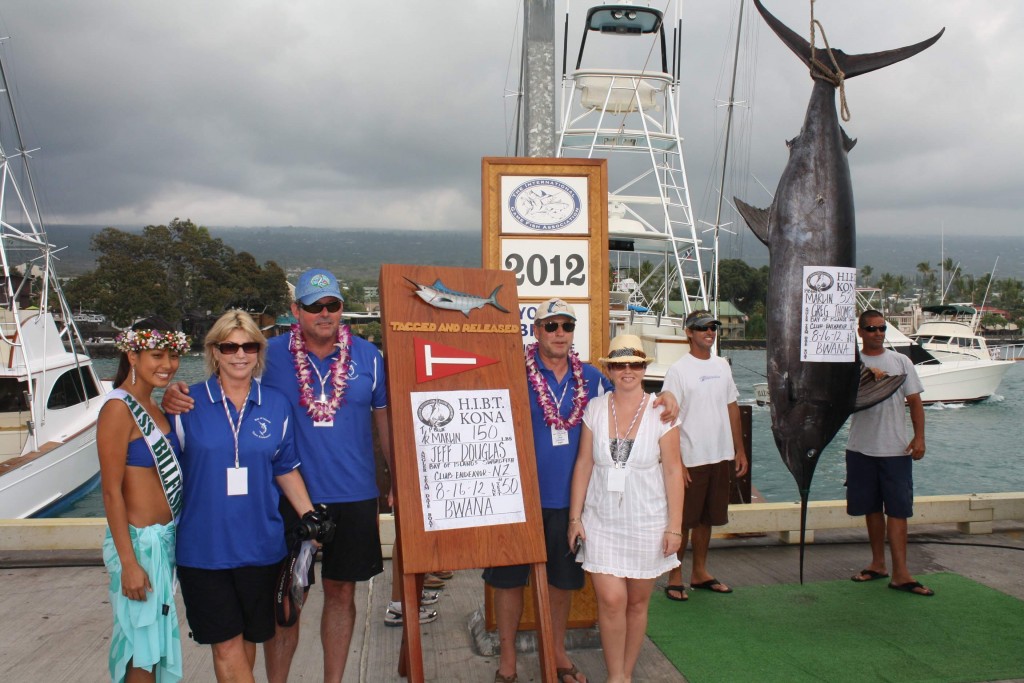 OLD SOUTH MARLIN CLUB TEAM 4 HOLDS LEAD HEADING INTO FINAL DAY OF HIBT FISHING
SCOREBOARD IN MOTION

Kailua-Kona, Hawaii (Day 4) – North Carolina's Old South Marlin Club Team 4 is the team to beat at the close of Day Four of this five-day fishing marathon, but several teams have posted high scores and are within striking distance. After yesterday's stunning triple marlin score, Old South Marlin Club Team 4 was unable to add points to the leaderboard today.

Teams to Watch

Kona Game Fishing Club Taiyo of Japan has consistently posted valuable points on the board all week. The team fished aboard the 41-foot Miss Mojo today and tagged and released another two Pacific blue marlin and boated an Ahi, netting this team a close second on the scoreboard.

Other notable catches today included New Zealand's Bay of Islands Swordfish Club-Endeavour boating the day's largest fish. Angler Greg Thompson reeled in a 528-pound Pacific blue marlin in an astonishing 14 minutes, fishing aboard Bwana. Teammate and angler Jeff Douglas tagged and released an estimated 150-pound Pacific blue marlin earlier in the day. Papua New Guinea's Port Moresby Game Fishing Club, fishing aboard Anxious brought in a 376-pound Pacific blue marlin. Angler Anthony Farrell boated this marlin in one hour and 45 minutes.

"Such an active scoreboard indicates what a great week of fishing we have had here on the Kona Coast," said Peter Fithian, HIBT Founder. "HIBT teams are fishing with lighter line and working hard while the captains and crew members of this fine fleet work just as hard to bring in the fish. International sportsmanship and camaraderie are key components of the Hawaiian International Billfish Tournament."

Day Four HIBT action netted two boated Pacific Blue marlin, two boated Ahi, twenty one billfish tagged and released which included seven Short nose spearfish.

Boat Captain Battles
Tournament points are equally valuable for each HIBT captain. Several awards honor the memory of Kona's fishing legends and are cherished by the captains. Through Day Four,
Captain Jason Holtz of Marlin Magic holds the lead in the race for the highest score and the Henry Chee award. Other captains to watch going into tomorrow's final day of HIBT fishing include Teddy Hoogs of Bwana, Doug Pattengill Holo Holo and Mark Shubert of Miss Mojo as they battle it out for the Henry Chee Award.
The 2012 Hawaiian International Billfish Tournament continues through tomorrow Friday, August 17.


TEAM STANDINGS
Place               Team                                                                                       Points
1                      Old South Marlin Club #4                                                         2,850
2                      Kona Game Fishing Club-Taiyo Japan                                         2,418
3                      Bay of Islands Swordfish Club-Eldorado New Zealand                   1,700
TOP CAPTAIN STANDINGS
Skipper                                    Boat                                                                 Points 
Jason Holtz                             Marlin Magic                                                       2,350
Teddy Hoogs                           Bwana                                                                1,904
Doug Pattengill                        Holo Holo                                                            1,467
Mark Schubert                         Miss Mojo                                                           1,450