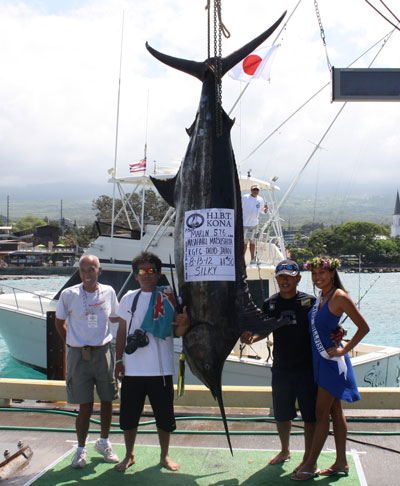 Kona, Hawaii (Day 1) – Anglers gathered on Kailua Pier early Monday morning as the 53rd running of the Hawaiian International Billfish Tournament (HIBT) got underway. At the traditional announcement of 'Start Fishing, Start Fishing, Start Fishing,' Kona's finest fleet headed out for the first of five spectacular days of fishing.
Eleven Countries Represented

HIBT 2011 champions Port Vila Game Fishing Club of Vanuatu are looking to defend their title against a very strong lineup assembled in Kona from around the globe. Countries on the starting line this year include the USA fielding 12 teams, Australia and New Zealand with six teams each, Japan with five teams,China with four teams, Papua New Guinea with two, Singapore and South Africa both with one, and one each from HIBT first-timers from Russia and Portugal. In all, 40 teams will be competing in the world-famous waters off the Kona Coast this week in their hunt to capture big game fishing's most prestigious HIBT Governor's Trophy.
HIBT Day One Action

By 10:30 Monday morning, Kona Game Fishing Club–Taiyo angler and team captain Masaharu Matsushita weighed in a 576-pound Pacific blue marlin and put the first points on the HIBT scoreboard. Matsushita is no rookie, having fished in eight previous Hawaiian International Billfish Tournaments. "This is the largest fish I have caught. I had the fish on 50-pound test and caught the marlin on a lure I made and brought with me from Japan," said Matsushita.
By the noon roundup, another 12 billfish had been tagged, three satellite tags had been deployed plus one more Pacific blue marlin had been boated and was expected to weigh in at the end of day. Before the mid-afternoon roundup, half the 2012 HIBT teams had fish – and valuable team points.
Robbie Englehard, Tournament Director said it best, "Kona's had some great fish earlier this summer, and now at HIBT, we are seeing the quantity." Englehard, a long-time HIBT volunteer, has held the post of Tournament Director for six years. Englehard started his fishing career in 1974 as a deckhand for the legendary George Parker, Kona's Hall of Fame charter boat captain who in 1954 captured the first 1,000-pound Pacific blue marlin ever landed in the Pacific
HIBT women anglers made their mark on Day One of this 53rd HIBT Tournament. Big Game Clube De Portugal angler Robina Baynan posted valuable HIBT points on the scoreboard as she tagged and released two Pacific blue marlin, estimated at 200 and 250 pounds, on 50-pound test line. Olympian Dream Fishing Club angler Mari Arakawa celebrated her birthday today on this first day of Tournament fishing and was very excited to tag and release two fish one Pacific blue marlin, estimated at 150 pounds and a Short nose spearfish estimated at 40 pounds.
"As the teams were boarding their boats this morning, you could hear the excitement building in languages spoken from around the world," said HIBT Founder Peter Fithian. "With 40 teams fishing this year, we expect to see a lot of action. Anglers know Kona's impressive sport fishing reputation and are ready to fish. We are looking forward to a great week of HIBT action."
HIBT rules note that billfish points are awarded for any Pacific blue marlin, Black marlin, Striped marlin, Short nose spearfish and Broadbill swordfish that weigh in at 300 pounds or more. Qualifying tagged and released billfish are awarded valuable points computed on line weights of 80- or 50-pound test. Bonus points are given for weighed fish over 500 pounds, for the heaviest qualifying marlin each day and the heaviest qualifying marlin of the tournament. Ahi (tuna) are awarded points per pound for fish that weigh in at 100 pounds and more.
The Hawaiian International Billfish Tournament is underwritten by the generosity of the County of Hawaii and sponsored in part by KWXX Radio and numerous other corporate and community donors.
The 2012 Hawaiian International Billfish Tournament continues through Friday, August 17.