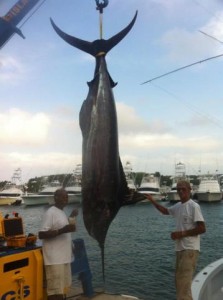 QUEEN OF HEARTS TAKES WORLD CUP
For the second time in five years, the Bermuda based team aboard QUEEN OF HEARTS emerged victorious in the world wide Blue Marlin World Cup Championship (World Cup). They had previously won the World Cup in 2007. In this very unique event, teams from around the globe compete annually each July 4 for eight hours in their time zone to see who can land the largest blue marlin 500 pounds or more. Hundreds of thousands of dollars are at stake.
It was the seventh win for Bermuda in 28 years. Only Kona, Hawaii has as many World Cup wins. It was only the second time in the event's history that the same team had won two times. Happy Hooker, fishing in the Cape Verde Islands did it in 2006 and 2010.
Walter Cross, owner of QUEEN OF HEARTS, and his captain, Peter Olander are local Bermudans. Glen Astwood was the angler that actually landed the winning 768 pound marlin. It was one of only two marlin caught in the tournament that exceeded the World Cup minimum size. All smaller marlin were released including some that were tagged.
There were 138 teams competing in the one day, one winner, World Cup. Other locations where teams competed were Queensland, Australia, Angola, Portugal, Madeira, Azores, Canary Islands, Cape Verde Islands, Bahamas, Costa Rica, Mexico, Virgin Islands, French Polynesia and US locations including Kona, Louisiana and Cape May, New Jersey.
International anglers represented Russia, Finland, Saudi Arabia, South Africa, Spain, France, United Kingdom, Germany, Italy and Mozambique.
The winning marlin was caught on a Black Bart Zulu lure. Black Bart is the official lure of the World Cup and the winning team will receive a set of Black Bart lures, shirts and caps. They will also receive four pairs of Maui Jim sunglasses and an invitation to the 2013 Offshore World Championship.
A portion of the proceeds of the World Cup is donated in support of marine conservation to the IGFA and The Billfish Foundation.
For further details and complete rules go towww.bluemarlinworldcup.com. Phone (954) 561-9116, Fax (954) 566-3059, or emailmike@bluemarlinworldcup.com.