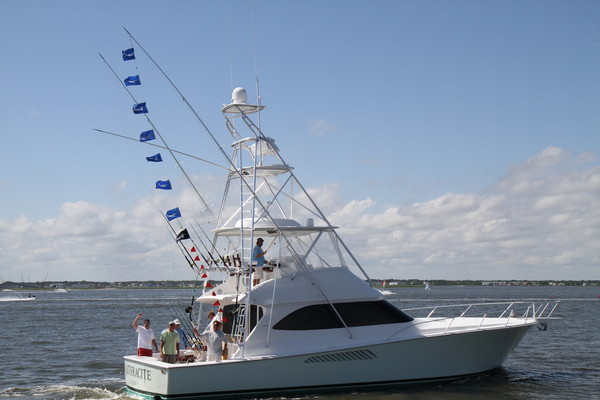 Ocean City, MD – The 35th annual Overnight Billfish Tournament is complete and the event included 114 billfish caught and released by 36 boats competing for more than $60,000 in cash and prizes.
The 2012 tournament started July 29 and ended on Saturday (Aug. 4). The Ocean City Marlin & Tuna Club sponsors the event, which saw a wide variety of tuna, wahoo, dolphin and mako sharks weighed during a tournament that offers prizes for all types of offshore fishing.
The "Viking 70" from New Gretna won the tournament with 2,062 points, an all-time record for tournament points. Capt. Ryan Higgons aboard Pat Healey's boat released 26 white marlin, another all-time tournament record along with two yellowfin tuna.
Second-place honors were earned by Jim Foulke's boat, "Trust Me Too," fishing out of Cape May. Foulke's boat started the week fast on the first day of the tournament and released 19 white marlin and weighed a 57.5-pound yellowfin tuna.
Third place winner was  Richard Ryon's "Anthracite" from Beach Haven.  A perennial winner in this tournament, Anthracite released 17 white marlin and caught two yellowfin tuna with the largest weighing in at 89 pounds.
The largest tuna was a 173-pound bigeye tuna caught aboard Tim McBride's boat, "Royal Flush," out of Somers Point.
Capt. Dan Embon's boat, "Paycheck," out of Manasquan, won the mako shark category with a 174.5-pounder caught by crew member Trevor Bogart.
Len Warren fishing aboard his boat, "Endure Fin," won the wahoo category with a 45-pounder.
The 2012 tournament results reflect the true spirit of the Ocean City Marlin and Tuna Club.  With an amazing 114 billfish releases by just 36 boats, the tournament participants live up to the motto "Release them today for fishing tomorrow."
— News release from the Ocean City Marlin & Tuna Club