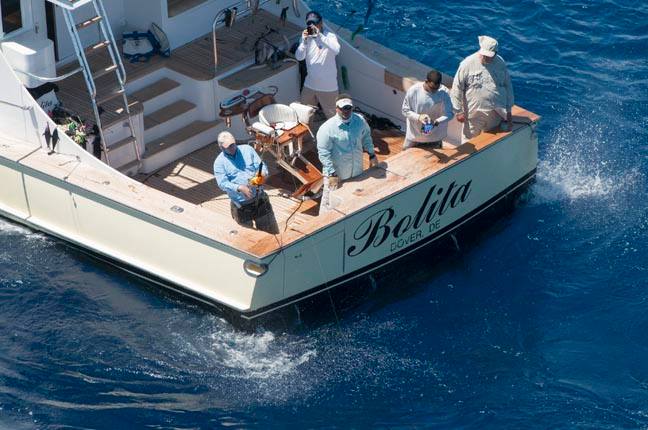 San Juan, Puerto Rico – The blue marlin certainly showed up in mass to celebrate Club Nautico de San Juan's 60th International Billfish Tournament (IBT), fished September 17 to 20. The fleet of 46 boats, with nearly 200 anglers representing 8 countries, released an incredible 145 blue marlin in four days of fishing.
"We had an excellent tournament and broke records this year," says Chairman Miguel Donato. "For example, this is the first year in the last 10 to 15 that one boat as released 10 blue marlin."
This winning boat is Bolita, a 74-foot Buddy Davis, owned by Puerto Rico's Jaime Fullana. Not only did the team aboard Bolita release the most fish – 10 blue marlin (2,775 points), but Fullana also won Top Angler, both local and overall, for his 4 releases (1,110 points). What's more, the team's total of 8 releases on the third day of tournament fishing earned Fullana the keys to a brand new Smart Car, courtesy of Garage Isla Verde.
"There isn't anything better than winning this tournament," says Fullana. He recaps, "We released three blue marlin the first day and two the second. These we caught using 50-pound test line. Then for the last two days we fished with 30-pound test and released another five. There was only one fish we saw that we didn't catch. I'd say our success was due to fishing the way we always do, catching just about everything we saw, and luck. It's the first time I've won this tournament and I have fished it every year but one since 1965."
Fullana also credits the use of new satellite program using 'Google Earth' that has allowed organizers to show tournament anglers where are the potential fishing 'hot spots' with a high degree of accuracy. Dr. Ricky Jaen, who will be chairman of the 61st IBT, is credited with introducing this technology last year and again this year.
The angling team aboard Bolita included Fullana, his nephew Antonio, Miguel Munoz and international anglers Michael Kelly and famed marine artist, Carey Chen, both from the U.S., and Javier Pira from Guatemala.
The second and third top boats, Christina (2,275 points) and Anamarina (1,950 points), fished exclusively with 30-pound test line and released seven and six blue marlin, respectively. The release of a blue marlin on 30-pound test earned anglers 325 points each while a blue released on 50-pound test counted for 230 points.
In the angler rankings, after Fullana, Carlos Luis Rodriguez earned second place with 1,015 points and Juan Quintero finished third with 975 points.
Elias Ignacio Cruz (975 points), from Ecuador, was named Top International Angler. Team Ecuador also won Top International Team with 1,800 points. Team members included Jimmy Adum, Jose Bejuco Jimenez del Valle and Carlos Luis Rodriguez.
Finally, Puerto Rico's Stephanie Lebron, fishing aboard Tati  Way, successfully defended her Top Lady Angler title for three years in a row. Lebron released two blue marlin for 650 points. A total of four lady anglers fished this year's IBT.
There's a chance to relive all the fun and fantastic fishing in future months. The World Fishing Network, a recreational fishing TV station based in Canada, filmed two TV programs: 'Nick and Mariko Adventures' and 'World Fishing Journal', during the IBT as part of a sponsorship granted by digital cable company Liberty. It is estimated that at least 10 million households will be reached through these TV programs.
The IBT is the longest consecutively held big game fishing tournament in the world and attracts anglers from all over the world to fish in Marlin Alley, a natural geological trench about a mile and a half off the North coast of San Juan. This well-orchestrated fishing competition that boasts nightly parties, a spectacular boat parade, special Ladies Program, a Shoot-Out start past the famous El Morro Castle, honorary jet fly-over welcoming the fleet back to shore and a tournament finale Gala Awards Banquet where over 30 prizes are presented. The IBT also boasts a strong conservation ethic that promotes tag and release and this year a continued partnership with the National Geographic Society to deploy Crittercams in order for scientists to learn more about the magnificent marlin.
"Expect the tradition to continue next year," invites Donato.