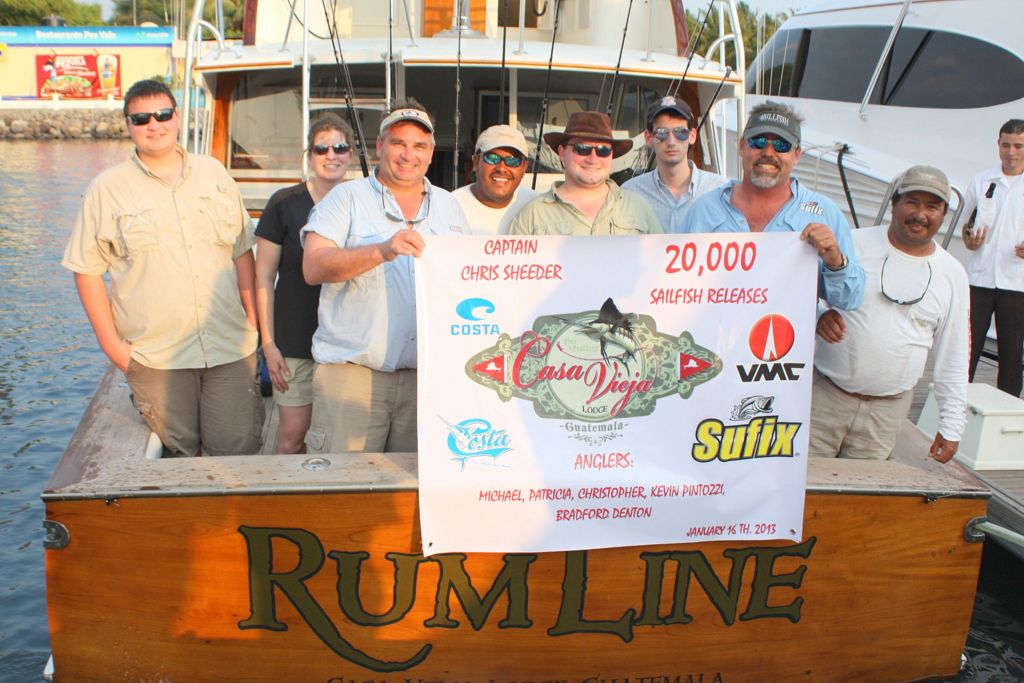 Guatemala – Casa Vieja Lodge's Capt. Chris Sheeder yesterday reached one of the most significant milestones to date in his career aboard the Rum Line, releasing his 20,000th sailfish! He is one of only 3 Captain's to every reach this record in the history of the sport and he is the youngest to have ever done it. Casa Vieja Lodge congratulates Capt. ChrisSheeder and his crew for their professionalism, courtesy and commitment to excellence in the sportfishing arena. "We know there will be many more to come" commented Jim Turner, Casa Vieja's proprietor.

Chris grew up fishing out of Honolulu, Hawaii and has fished and guided some of the world's top anglers to record fish throughout the world's most prolific waters: Midway, Costa Rica, the Canary Islands and of course Guatemala. For the past twelve years, Capt. Sheeder has called the Pacific coast of Guatemala his home. "It's a true testament to this unbelievable fishery here in Guatemala – there's no other place in the world where you can expect to release an average of 15+ billfish a day!…year-round!!!", says Capt Sheeder. Guatemala's pacific coast has distinguished itself year after year as the world's mecca billfishing destination. "It's the combination of these incredibly huge numbers of sailfish, the daily Blue Marlin possibility and our tranquil seas that make it a true billfisherman's paradise," comments Capt. Sheeder.
Congratulations to Capt. Chris ons this Great Accomplishment from all of us at the Billfish Report!