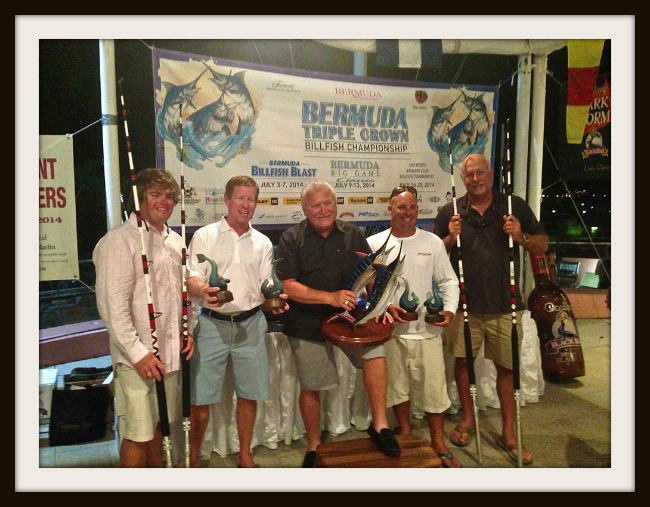 Bermuda – One of Billfishing's most coveted Trophies, the Bermuda Triple Crown was one by Team Fa La Me. Boats must compete in three separate Tournaments, the Billfish Blast, Big Game Classic and the Sea Horse Anglers Club in order to win. These tournaments feature some of the most accomplished anglers and crews in the World with almost fifty (50) Boats competing.
Fishing was tough in 2014, really tough. In the Billfish Blast a 3-Day Tournament, only 34 Blue Marlin and 33 White Marlin were caught. In the Big Game Classic also a 3-Day Tournament, 33 Blue Marlin and 18 White Marlin and then in the Sea Horse 28 Blue Marlin and 5 White Marlin. That equated to a 1.4 Billfish Average in the Billfish Blast, a 1.08 Billfish Average in the Big Game Classic and 1.21 Billfish average in the Sea Horse. In all three of these tournaments, when the fish were not biting, every fish mattered.
This was really an improbable win for Capt. Rob Moore and Team Fa La Me. Despite having won the Triple Crown in 2012, they did not appear to even be in the hunt coming into the final Tournament. Think about this. They finished 18th in the Billfish Blast releasing 3 White Marlin. They were in 29th place in the Big Game Classic with only a White Marlin to show for their efforts. So in 6-Days of fishing, they only released 4 White Marlin. But, you should never count these guys out. In the Seahorse they got their stride and a little luck adding 5 Blue Marlin to their totals, including one magical Day 2 going 4-5 on Blue Marlin. That one Day, literally that one day was the difference between a team in the middle of the pack to Triple Crown Champions!
Team Fa La Me is lead by Capt. Rob Moore and owner Frank Rodriguez with team members Taylor Beckford, Tyler Beckford, David Berard and Jeff DeSilva.