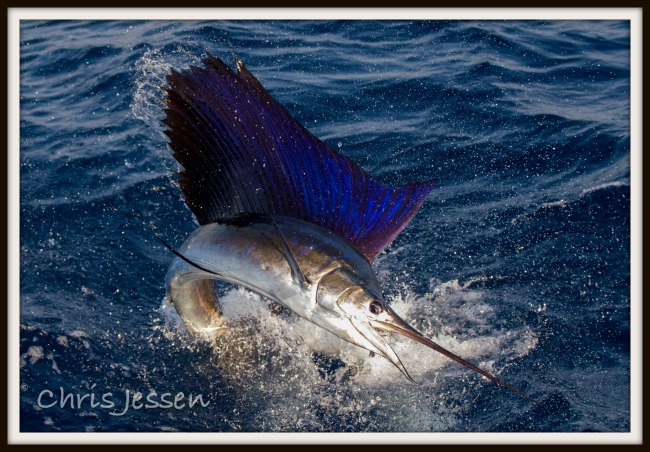 Jaco, Costa Rica – (Los Suenos Marina) It takes extraordinarily good fishing to get noticed these days when it comes to Sailfish. Double Digit days are not even reported as they have become the norm. While we still love to hear about them, it is just the way it is at the moment. A number of boats have been posting 20+ fish days recently, but three boats Fish Tank, Sea Angel and Cuz We Can pulled ahead from the pack.
Fish Tank was one of the first boats to find the "pack" releasing sixty-six (66) Sailfish in one day, not once but twice and even added a Blue Marlin for good measure. Over a 4-Day period they also managed a 34 & 25 Sailfish day. It takes a lot of doubles and triples to catch that many fish in a day, but they released a quintuple, which must have been some mighty fine driving and coordination. All told they pulled 191 Sailfish up to the side of the Fish Tank over 4-Days.
Cuz We Can finished a 3-Day sprint, releasing 119 Sailfish with their best day of sixty (60). Top day of the week and for that matter the season came off the Sea Angel who went an eye-popping 82-104 on Sailfish. There have certainly been 100+ Sailfish seen in a day, but that is a truly epic day.
The last leg of the Los Suenos Triple Crown starts next week, so if this bite continues we should be in for a treat.