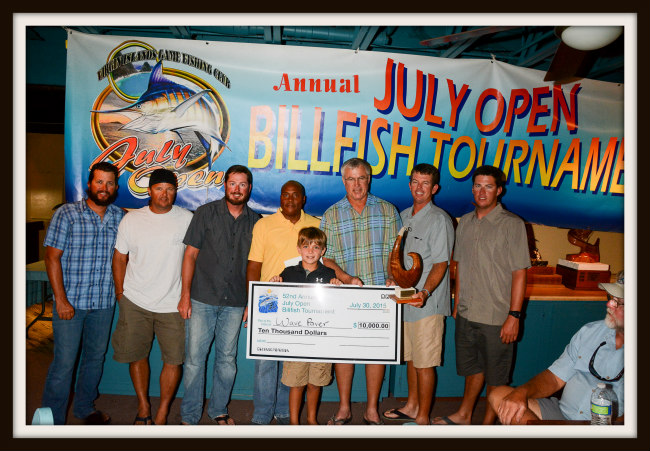 St. Thomas, USVI – (Virgin Islands Game Fishing Club) Making the most of every bite proved the key to success for the team aboard Wave Paver. Port Canaveral, Florida-based Jr. Davis, angler and owner of the 61' Garlington, and his team released seven blue marlin in three days of fishing to earn Top Boat in the 52nd July Open Billfish Tournament (JOBT), hosted by the Virgin Islands Game Fishing Club (VIGFC), July 28 to 30.
"We hooked every bite and caught everything we hooked," says Davis, whose team's successful year so far includes a win at the inaugural Production Boats vs Custom Boats Shootout in May and the four-leg Bahamas Billfish Championship that concluded in June.
The Wave Paver's road to its name on the prized perpetual trophy started 20 minutes before lines out on the tournament's first day.
"We headed to the North Drop because that's where we heard the fish were biting. But, we didn't get our first fish released there until late afternoon," Davis explains.
Meanwhile, it was 13-year-old Zac Murck, from Davie, Florida, fishing aboard his family's 58' Merritt, Never Say Never, who released the first blue marlin of the tournament. Mistress, an 82' Viking with a California- and Florida-based team aboard, led at the end of Day 1 with two blue marlin releases.
On Day 2, the Wave Paver team really turned on their fish catching prowess. Angling off Anegada, Jerry Owens released one blue marlin and Davis another two to launch Waver Paver into the lead. Casca Dura, followed fast on Wave Paver's heels. The team on the Brazilian-based 80' Merritt, finished the day in second place with three blue marlin releases.
The third and last day, Wave Paver shot out to the productive waters off Anegada once again.
"We knew we needed to catch a couple to keep our lead," Davis says.
True to wish, Davis released a blue marlin mid-morning, another around Noon and yet a third in the mid-afternoon. Thus, seven definitely proved to be Wave Paver's lucky number.
Davis released six of Wave Paver's blues to earn the prestigious 'Give Him Line' award for Top Angler. The names of past winners engraved on this perpetual trophy reads like a 'Who's Who' of blue marlin sport fishing. Angler Elliot Fishman's winning 845-pound catch in 1968 set an all-tackle world record. Only two anglers have reeled in this honor two times – the late Howard Crouse in 1965 and 1988, and Puerto Rico's late legendary angler Ralph Christiansen in 1973 and 1984.
Mistress released one fish late on Day 3 for four total and a second place in boat standings, followed by Casca Dura in third with three releases total.
"We didn't see any fish today, but it was still a great tournament," says Casca Dura angler William Morrison. "We're looking forward to fishing here again next month in the USVI Open/Atlantic Blue Marlin Tournament."
The 9 boat tournament fleet, with 63 anglers, collectively released a total of 20 blue marlin and one white marlin.
This year's JOBT honors Sue Boland and the many years of service and support she has provided to the VIGFC, the tournament and the tournament's chief beneficiary, The Boys & Girls Club of the Virgin Islands.
Proceeds from the JOBT benefit the Boys & Girls Club of the Virgin Islands. The Boys & Girls Club of the Virgin Islands, a 501 C (3) organization, enables all young people, especially those most needy, to reach their full potential as productive, caring, responsible citizens. Donations are tax deductible.