The Billfish Report is counting down its Top 10 Billfisheries of the Year, and our #5 Billfishery goes to Cairns – Northern Queensland, Australia. Criteria for our Top 10 include fish numbers, variety of billfish species, average size of fish, length of season and number of boats fishing. With over 11,000 Billfish Reports submitted to us in 2015 from around the World, to even be considered for our Top 10 makes a fishery one of the best!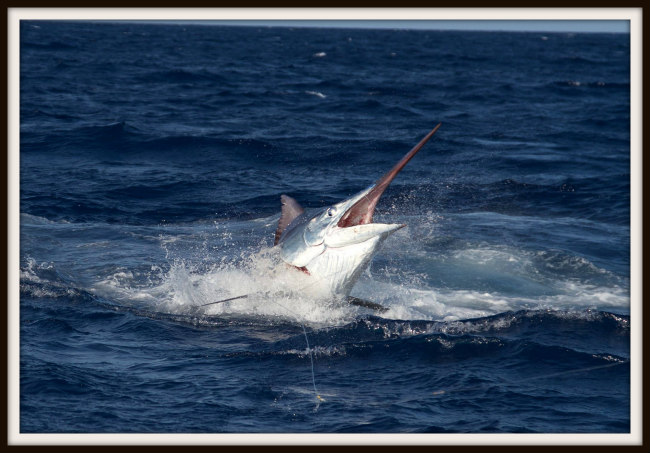 What does it say about a fishery when releasing twenty-three (23) Grander Black Marlin in a season is average? What does it say about a fishery when you release at least 146 Black Marlin over 500 lbs.? It means it is simply one of the finest fisheries the Sportfishing World has ever known. It is truly a unique fishery and for those who have experienced, it is truly special.
The Great Barrier Reef from Cairns to Cooktown produced 82% of all Black Marlin caught in the World in 2015. Maybe what was even more shocking is they did it in less than a month. It was one of the shortest hot bites we can remember, but when it was on, it was on. In all, the large Black Marlin releases were actually down 25%. The typical October bite never materialized and it took until November for the water temps to get optimal. But, when they did, it was a sight to see.
I don't think you want to tell these guys it was a down year on Granders with Amokura releasing 3, Moana III releasing 3, Viking II with 3, Tradition with 3, Kekoa with 2, Levante with 2, Onsite with 2 and Calypso with 2 (and we know we missed some).  One of the toughest things about covering the Black Marlin bite on the Great Barrier Reef is it is one of the last fisheries, where technology has really not caught up. Even with satellite internet, getting daily reports can be a challenge. Maybe that is the way it should be though.
This fishery is not about numbers, it is all about quality as the stats tell us. We did have Viking II, Tradition, Iona II, Amokura, Zulu and Happy Hooker all turn in four (4) Black Marlin days. Perhaps the most spectacular of those was on the Viking II who released a 950,950,600 & 450 and if you know Capt. Billy Billson, those 950's were probably four digits. We also had an extraordinary day on the Moana III with Capt. Daniel McCarthy, where he released two (2) fish over the 1,000 lbs mark. Make no doubt about it though, catching a Grander, even in these waters can be a once in a lifetime achievement and the Captains remember those special fish.
Most boats do not target anything but Black Marlin during the season, but there are some nice Blue Marlin caught for those venturing out wide. Little Audrey scored two really nice Blue Marlin, both going over 900 lbs. (Little Audrey also weighed the heaviest Black Marlin of the Season at 1,158 lbs). When the heavy tackle is put away, Cairns can get a good Sailfish bite as well, with the best report we got off the Bounty Hunter with 12.
Congratulations to Northern Queensland, our #5 Billfishery of the Year!
SEASON HIGHLIGHTS
Black Label released 10 Black Marlin in 9-Days including a 950+.
Viking II finished released 9 Black Marlin including 2 Granders over 7-Days.
Tradition went 4-6 on Black Marlin.
Iona II went 4-7 on Black Marlin.
Amokura released 4 Black Marlin over 950 lbs, including 2 over 1,000 lbs.
Viking II released 4 Black Marlin (950,950,600,450).
Zulu went 4-4 on Black Marlin, including an 800.
Bounty Hunter went 7-15 on Black Marlin over 4-Days.
Levante released 10 Black Marlin on 7-Days, including a 900 & 800.
Kekoa  released 9 Black Marlin over 6-Days including 4  over 500 lbs. (1,000,900,900,500)
Moana III released  2 Grander Black Marlin in a Day.
Happy Hooker went 4-5 on Black Marlin.