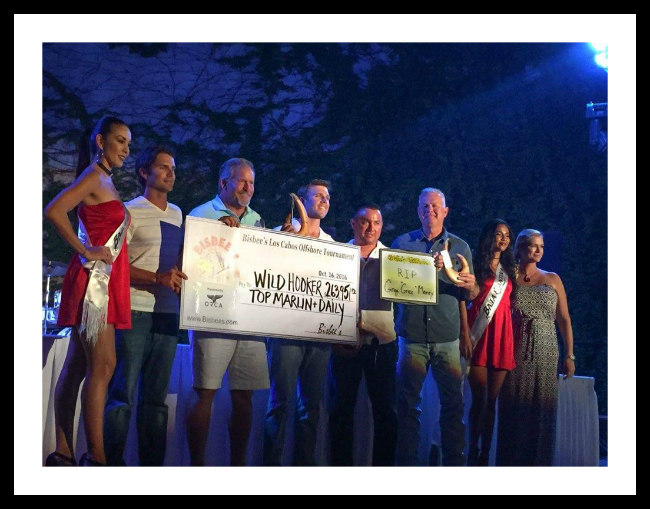 Cabo San Lucas, Mexico (Capt. Dave Lear) – Astute investors and financial planners know the benefits of compound interest. Banked over time, a modest amount grows exponentially into substantial savings. That principle can also apply to a big-game fishing tournament like the Bisbee's Los Cabos Offshore. From its humble beginnings more than a decade ago as a simple get-together for alumni Black & Blue winners, the LCO has grown into a world-class event that showcases top angling skills and serious prize money. The 2016 edition, which concluded Sunday night, is a perfect example. A total of 108 teams competed for more than $772,000, with several teams earning impressive payouts.
Angler Rick Daab and his veteran crew aboard Wild Hooker earned the biggest share of the overall pot after landing the largest marlin, a 450-pound black on Sunday. The team is splitting $263,951 for the top tournament entry and all three Day 2 optional billfish jackpots.
Mike Maier and his Go Naked Team kept their clothes on and whipped a 391-pound blue on Saturday to capture second-place tournament and optional jackpot categories. They'll be well-dressed now, after receiving a check for $235,034. Team NiceRide and angler Deno Merziotis won $8,505 after landing the third-heaviest marlin, a 366-pound blue.
The two game fish categories—tuna and dorado—proved lucrative as well. Francisco Rochin and his Sea Fever team mates earned a tournament record payout in the dorado division when the prize money rolled over with no qualifiers on Saturday. The team's 32.4-pound dorado, just 2.4 pounds over the minimum weight, was worth a whopping $93,230.
Brian Parker and the Sin Duda crew waited until the last moment to weigh their fish Sunday night, but good things came from it. The 283-pound yellowfin paid out $57,955 for the heaviest fish and Sunday's daily prize money. North Star (with James Rosenwald on the rod) is taking home $35,275 for landing Saturday's top tuna, a 224-pounder.
In the tight race in the Release Division, Sea Angel emerged triumphant after releasing four blues and one striped marlin, good for 1,300 points. That effort won the Texas family team $50,830 in prize money. Team Galati won second-place release honors and $17,595, while Pocket Acesrounded out the standings, good for $9,775. The high number of juvenile blue marlin encountered by the fleet will certainly pique release competition in this week's Black & Blue.
The less-fortunate children of the region were benefactors as well. Thousands of pounds of the weighed fish were donated to the Feeding Los Cabos Kids charity, which provides high-protein meals through support centers in the local barrios.
"What an awesome warm-up," said Tournament Director Wayne Bisbee after the conclusion of Sunday's awards banquet at the Maria Corona Restaurant. "I'm just blown away by how much this event has grown over these past few years both in terms of the number of boats and prize money. We've come a long way from our inaugural alumni get-together. Of course, none of that would be possible without the support of our great sponsors and all the skilled teams that fish it. There were some really nice fish caught and really good action. If that trend continues, the Black & Blue is gonna be epic."