The Billfish Report is counting down its Top 10 Billfisheries of the Year with our #10 Billfishery the Azores. Criteria for our Top 10 include fish numbers, variety of billfish species, reports, average size of fish, length of season and number of boats fishing. With over 5,000 Billfish Reports submitted to us in 2019 from around the World, to even be considered for our Top 10 makes a fishery one of the best!
Azores, Portugal – One of the most historic fisheries in our sport. Historically known for large Blue Marlin and indeed for Grander Blue Marlin, some of which the largest we have ever known in the Atlantic and the World. We have not seen the Azores in our Top 10 since 2013, after being named our #1 Billfishery in 2011.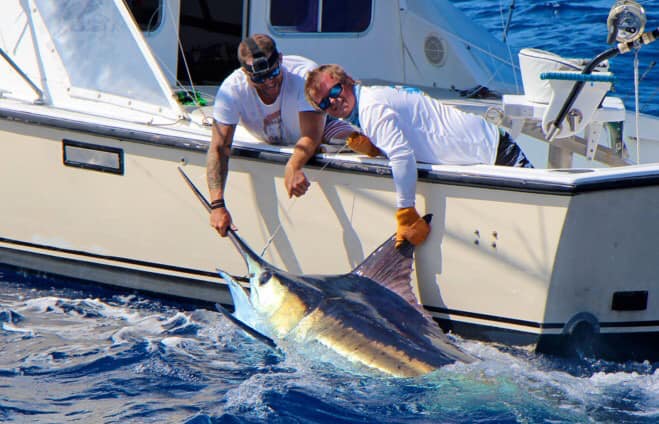 Most would not even call this is a "great" year by Azores standards. But, when you consider this is one of the smallest fleets and the shortest seasons we cover (30-Days +/-) what they were able to put on the board was commendable. Boats fishing these waters were able to produce forty-four (44) Blue Marlin over 500 lbs, from which eighteen (18) were over 750 lbs. With this, they were 6th in the World for Blue Marlin over 500 lbs. in 2019. 
This is quality fishery, not a quantity fishery. We recorded six (6) days from which boats recorded 2+ Blue Marlin over 500 lbs, with Alabote & Brasilia both recording three (3) Days, including an exceptional day by Brasilia who released three (3) Blue Marlin over 500 lbs. all of which were over 700 lbs. This was one of the finest days of fishing we had in all of 2019. 
As previously mentioned, this is one of the smallest fleets, with the shortest season we cover. They do not get a great variety of species, but White Marlin are caught here as well as the occasional Spearfish. 
Congratulations to the Azores, our #10 Billfishery for 2019.