The Billfish Report is counting down its Top 10 Billfisheries of the Year with our #5 Billfishery is Los Suenos, Costa Rica. Criteria for our Top 10 include fish numbers, variety of billfish species, reports, average size of fish, length of season and number of boats fishing. While reports were down in 2020 as many fisheries had limited days fishing or in some cases an entire season cancelled, we still had over 4,000 Reports. We want to acknowledge and congratulate those who were able to fish in 2020 as there was still some amazing fishing to be had. 
Los Suenos, Costa Rica –  Another won of our Top 10 Frequent Flyers. In fact the last time they were not in our Top 5 was 2013. Inshore, Nearshore, Offshore you name it, there are plenty of Billfish feeding in these waters. They, like many others we cover had a complete shutdown to the bulk of their season due to travel restrictions. But, like the others in our Top 10, the fish never left. Those who were lucky enough to get down there, were also treated to some excellent fishing.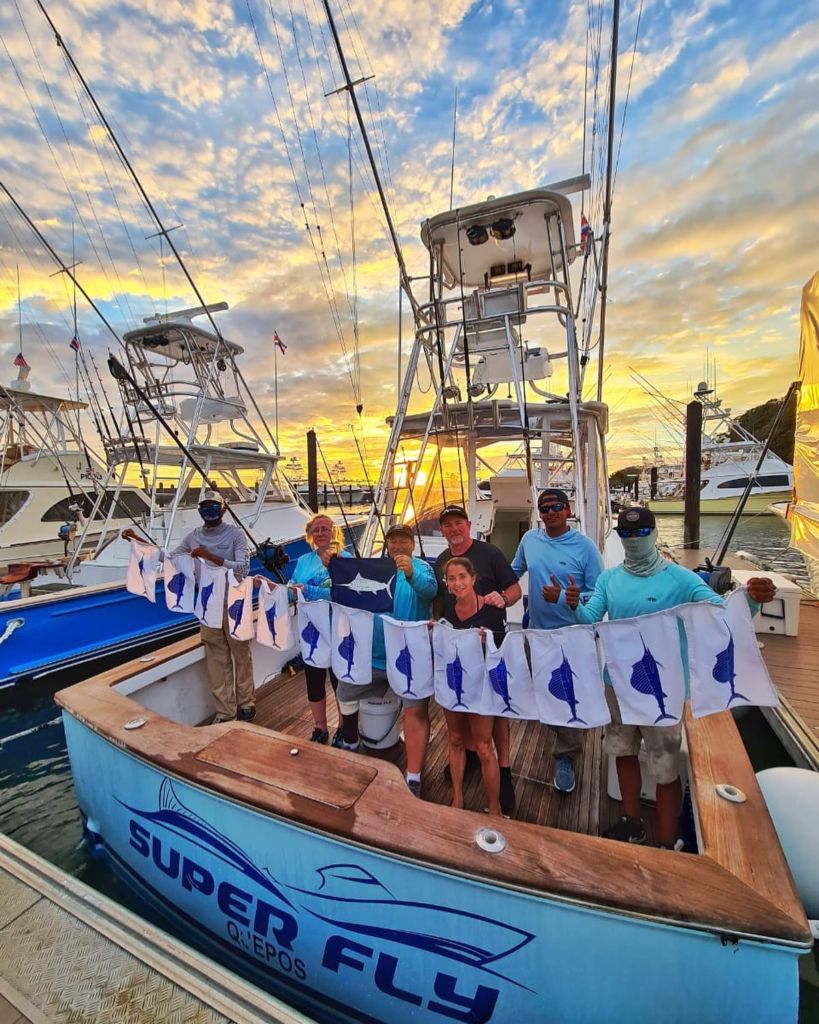 Most Anglers coming to Los Suenos are looking for the opportunity to get a lot of shots on Billfish. For those fishing the nearshore or single day trips can easily see 20+ Sailfish a Day with a good shot at a Blue Marlin or even a Striped Marlin. We start our bonus points at the 20+ Sailfish Level from which we had three (3) reports, at the 30+ Sailfish level we likewise had three (3) reports and then finally on the 40+ Sailfish level we also had three (3) reports. The single Best Day on any boat in 2020 was on War Party with 70 Sailfish released in a Day. This was not only the best in Los Suenos, but the best in the World for 2020. War Party was not alone on the astronomic Sailfish bite, with Tranquillo (out of Quepos) releasing 60 in a day. 
We saw much fewer boats doing overnight trips in 2020 for obvious reasons. We oddly enough had no boats reporting 5+ Blue Marlin released in a Day, but instead we had two (2) with 10+ Blue Marlin and then one (1) with 20+ Blue Marlin. Capt. Bubba Carter on Tijereta released the twenty (20) Blue Marlin and then added 10 Sailfish for good measure. This was by far the most Blue Marlin released on a single day anywhere in the World for 2020. 
There is great variety in these waters with Sailfish, Blue Marlin, Black Marlin and Striped Marlin available almost year round. This variety of course also leads to Grand Slams. We had a total of nine (9) Grand Slams reported to us in 2020, placing them 3rd in the World for 2020. 
This is a year round fishery with Billfish caught here every month of the Year. This is considered a large size fleet on our scale, with reliable reporting coming off of twenty (20) Boats. 
Congratulations to Los Suenos, our #5 Billfishery for 2020.